FROM: Student Affairs
RE: Homecoming Week Activities
Sent: 10/11/2017 9:35:10 AM
To: Students, Faculty, Staff
---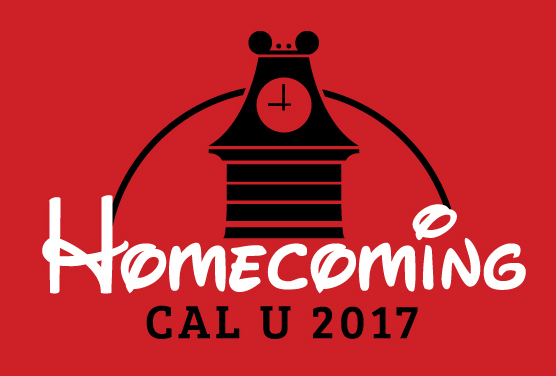 Homecoming Week Activities 2017
ALL WEEK!
Take your DISNEY Homecoming Selfie at various locations throughout Natali Student Center and enter to win prizes. Tweet your pictures to @CalUStudentAffairs.


Monday, October 9th
Bingo for cash, 9pm in the food court, Natali Student Center. Students only are eligible to win $1,000 in cash prizes.


Tuesday, October 10th
Homecoming Court Announcement, 11:30am in the Food Court, Natali Student Center. Special guest Ryan Quinn from the Voice!
Get your free Homecoming giveaways!

Volleyball, 7pm Convocation Center


"Buzzed Lightyear" Alcohol Awareness Program, 8:30pm in the Performance Center. Food, prizes, photo booth and an interactive information program for all students!


Wednesday, October 11th
2017 Fall Drag Show, 8pm, Performance Center, Natali Student Center.

Thursday, October 12
Outdoor Movie, 7pm on the Natali Turf
Underground Café DISNEY Theme Night featuring Cal U alumnus Nick Barilla, 9pm in the Performance Center, Natali Student Center. Join us for some great entertainment, prizes and fun!
Friday, October 13th
Homecoming Celebration, 5pm – 7pm in the Hamer Courts, sponsored by the Black Student Union. DJ, Food and More!

Volleyball, 7pm – Convocation Center

President's Float building tour

Saturday- HOMECOMING, October 14th
Pre-Parade activities, 10am-Noon on campus. Have fun with inflatables, petting zoo, balloon man, or visit tables set up by various clubs and organizations.
Picnic on the Patio, 11am at the Kara Alumni House. Alumni and their guests are invited to enjoy picnic fare and socialize with friends and former classmates.

Homecoming Parade, noon, starts and ends on campus. Traditional floats and marching units have a "DISNEY" theme.
Volleyball, 1pm, Convocation Center

Kid's Zone, 1pm – 2:45pm Adamson Stadium, inflatable, face painting and giveaways.
Vulcan Huddle Tailgate, 1:30pm at Roadman Park. Mingle with friends before the game in the picnic area (near the pavilions) outside Adamson Stadium.
Homecoming football game, 3pm at Adamson Stadium. Watch the Vulcans take on Clarion. Halftime show features the Cal U Marching Band and crowning of the Homecoming King and Queen.
For more information or questions, contact Missy Dunn at dunn@calu.edu.